The next challenge presented by Common Core will be the introduction of standardized assessments that form a significant part of the vision of the Common Core adoption. Compared to most previous state standardized tests, and consistent with the goals of the Common Core Standards themselves, these assessments promise to test fewer standards per grade level and to rely less on students' recall of facts and procedures. However, they also promise to place greater weight on students' grasp of higher-order thinking skills.
Originally, two consortia of states were given federal money to develop assessment systems. As many as 40 states had, at one time, joined one of two consortia: Smarter Balanced Assessment Consortium (SBAC) and Partnership for the Assessment of Readiness for College and Careers (PARCC). In order to receive federal grants, a consortium was required to have 15 states onboard. Though federal money paid for the development of these assessments, states were ultimately required to shoulder the cost of implementing the tests. There was also no formal commitment required of member states to administer the developed tests, or even a common test of any kind.
In addition, grants were given to develop two alternative assessments: Dynamic Maps Alternate Assessment Consortium (DLM) and the National Center and State Collaborative (NSSC). These alternate assessments were designed primarily with the goal of including all students—especially those with significant cognitive disabilities—in the assessment process. We do not expect to see wide spread adoption of these assessments, so have not provided details here.
In recent months, the assessment picture has fragmented considerably, with states opting out of the existing consortia (either fully or partially) and, in many cases, developing their own "equivalent" tests. Even at this late date, it is unclear in some cases which end-of-year assessments will or will not be given to any particular student. Delays in technology, as well as financial and political motivations, have all contributed to the uncertainty students now face. With the introduction of significant diversity in assessment strategies at the state and even the district level, it is more important than ever that individual members of the Mathnasium team do their own research to become as knowledgeable as possible about what is going on in their areas. Good places to start:
Challenges aside, students in a significant portion of the country will still take some version of an SBAC or PARCC test as the 2014 – 2015 school year comes to a close. Here are some quick summaries of the two:
SBAC assessments consist of both Performance Tasks and End-of-Year (EOY) Assessments. These are envisioned to be adaptive (adjusts difficulty based on student responses; the availability of this option for this year remains unclear) and will be taken during the final 12 weeks of the school year. One Performance Task (designed to be completed in 90 – 120 minutes and scored by humans) is given to a student each year. Additionally, students take an EOY computer-based component of 40 – 65 questions, including selected-response, constructed-response, and technology-enhanced items, with a combination of human and computer scoring. (More on these question types here; scroll down to "Item and Task Types.") Four achievement levels have been defined, with Level 3 indicating adequate progress toward college readiness.
Similarly, PARCC assessments consist of an End of Year/Course (EOY) Assessment and a Performance-Based Assessment (PBA). PBAs are designed to resemble classroom work, with short, medium, and extended tasks, including computer-enhanced simulations. They use a mix of human and computer scoring, and comprise 40-50% of a student's overall PARCC score. The EOY Assessment consists of two testing sessions, is completely computer scored, and leverage technology for drawing, graphing, etc. Five scoring levels have been defined, with a score of 4 indicating readiness to engage in next year's work. Scores should be returned in time to influence report cards.
Preparing Our Students
Many areas of the country have dealt with test prep challenges for some time, but for many, these Common Core assessments present a whole new dynamic. In many cases, it is appropriate to supplement a child's Mathnasium material with developmentally appropriate (as determined by their Mathnasium Assessment results) test prep material during the homework portion of their session. Mathnasium material suitable for test prep use includes additional Mathnasium material, school-provided test prep materials, published samples from previous Common Core assessments, among other possible sources.
The instructional focus should remain consistent with our belief that the best way to prepare a student for any assessment is to teach them the math. Emphasis should remain on mathematical topics and concepts outlined in the Mathnasium Learning Plan. Teaching specific question formats and practicing computer implementations, etc. should not be incorporated into Learning Center instruction. If specific sample tests are required or are assigned by schools, we recommend that students complete these at home. However, students can bring in sample test questions they found particularly challenging for concept clarification.
Preparing Our Parents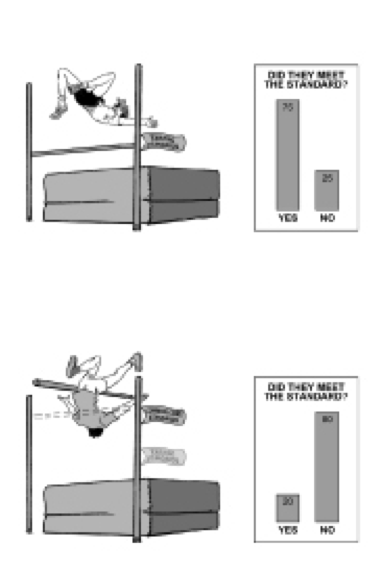 While Mathnasium will, as always, strive to prepare our students for all the mathematical challenges that they will face, the dialogue throughout the American mathematics community is foreboding. It is generally accepted that with the raising of standards represented by Common Core above many existing state standards, students' scores will fall—in some cases dramatically. SBAC has set the "cut scores" for their achievement levels based on field test data from early November. Data released by the consortium indicates that only 32% of elementary and middle school students will reach this level. For many students, this means that if they perform at the same level on a Common Core assessment as they did on a state standardized test last year, they will fall from passing to failing. PARCC is planning on setting their cut scores this summer after the first round of testing is complete.
Ultimately, this rise in standards should drive more and more families to Mathnasium as they realize that instruction in their schools falls further short of adequately preparing students for these assessments. For our existing students, this reality may be a bitter pill. Many of us have worked with students whose performance in school was inconsistent with their real level of math understanding, and have struggled to communicate to parents why their A student got a 30% on our grade-level Assessment. In that vein, aligning classroom grades, Common Core assessment results, and Mathnasium Assessment results will be challenging. Early and open discussions with currently enrolled parents to help manage expectations and guide them through the new academic environment will go a long way toward smoothing the transition to Common Core assessments.