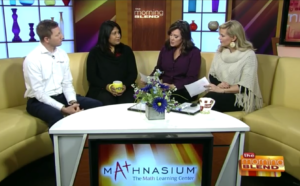 Local television news coverage can be a low-cost, wide-reaching technique to let your greater community know how your Center helps change kids' lives and why Mathnasium is the authority in math education! But if the thought of trying to get your Franchise featured on TV seems like a Herculean task, there's good news: plenty of Franchisees have done it, because it's not as difficult as you may think.
Local television is always looking for feel-good stories, and your Mathnasium has a great story to tell, whether the subject is Education, Business, or Parenting. Even if you've appeared on your local station before, the Mathnasium story is "evergreen"—always relevant—and you can return to the airwaves multiple times.
Just click on the locations below to see the fantastic coverage these local Franchises received:
The Franchisee in Saskatoon (Canada) tested on-air talent with flashy demo questions and a word problem. Viewers got to "play along" as the problems were presented on screen. This is a great way to involve the viewers. Even a short on-air appearance can include demos, like the one in Milwaukee, WI.
Here's another great idea: San Diego, CA used their on-air opportunity to offer free registration and assessments to the first 10 callers. Brilliant.
And don't forget that TV business shows are often eager to show local entrepreneurs serving the community, such as "Business Break" in Columbus, GA. The Edina, MN Franchise sponsored an episode of the local business show in which the host is also the president of the chamber of commerce.
Finally, in Phoenix, different Franchisees have each appeared on the same local ABC station.
Congratulations to Kevin Kemper, Rusi Hartana, Brad Jackson, Lynette Groves, Henry Dotson, and Rick Davis.
So, how do you do it? Follow the microsystem "Generate Awareness: Engage in Public Relations" in the Operations Manual. A top-level summary of the approach looks like this:
Create a media list.
Customize one of the

press release templates

provided on Download Depot by filling in the bracketed material.
Send the release out to local TV assignment editors, reporters, and/or show producers.
Follow up via telephone.
Provide information and track coverage.
Once you've secured a TV interview, consider the following for your big moment:
Make sure you've got your elevator pitch down pat.
Always wear your Mathnasium shirt when on camera.
Smile and show your passion for how Mathnasium transforms children's lives through math!
Call or write to thank them afterward. Nurture the relationship.
It really does work! So, don't be shy: You have a great story to tell that your community needs to hear!
(End)