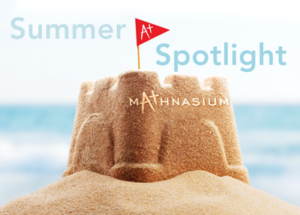 This is the first in a series of interviews with Franchisees about successful summer marketing tactics. Chosen based on strong summer sales numbers and feedback from their FBCs, these Franchisees offer tips on what they do and recommendations for other Franchisees.
Franchisee Dan Gehlbach of Mathnasium of West Des Moines, Iowa is going on his eighth summer with the company, so he's tried plenty of ways to raise enrollment and keep kids in the Center all summer. While he averages 110-130 students during the school year, his summer enrollment always spikes. In the previous two summers, his Center has averaged 190-200 students.
How do you gauge the success of your Center during the summer?
I use revenues, year-over-year growth, and whether kids are making progress through the summer, as measured by progress checks at end of summer.
What is your most successful marketing method for enrolling or re-enrolling?
Providing good service and building relationships with current families so that they come back each summer, enroll their siblings, and refer their friends.
Which marketing channels do you use?
I run PPC and Facebook ads, which are the best bang for my buck. I also send Constant Contact emails and run a bi-monthly advertorial, changing the message and ad to focus on summer. For schools, I mainly sponsor PTO "fun runs." School kids solicit local businesses for money or merchandise as a fundraiser to run around the school. I can put pencils and tri-folds in the bags that go home with kids. If the race is in the spring, I will offer a $50 discount on enrollment fees for summer enrollments. I have done a specific summer direct mail campaigns in the past, but I don't need to anymore.
How do you encourage current parents from the spring to stay on through summer?
I try to sell enrollments on the idea that summer is the perfect time to get ahead without homework. This is a tougher sell for high schoolers, although we do get a lot to stay and even some new high schoolers.
We have a promotion where you get $50 off the enrollment/assessment fee if they come in for their assessment before Memorial Day. I also offer a session package for summer, called "Prime 19," as a more flexible option to attend 19 times from June – August. This is the only option other than our main monthly enrollment, which is to drop in 2-3 times per week.
What I've seen a lot of Centers do is offer a whole menu of summer session packages. They'll sell 10 sessions, even though the students can only go so far in 10 sessions. I encourage other Franchisees not to sell things they wouldn't want customers to buy. Stick to what you normally offer.
Why is your summer enrollment so much higher than your school-year enrollment?
For my market, that's not unusual, because kids don't go away for the summer much in the Midwest, and we get a lot of enrichment kids who want to get ahead for next year.
How do you encourage parents who joined in the summer to stay on for the fall?
I post assess each student at the end of the summer—it's a great time to use progress checks. I try to set appointments to go over these results with parents in person, based on the likelihood that they will re-enroll. Some kids I know will stop attending, as they only come in summer, but they will be back next year. For those that signed up for the 19 sessions, I sometimes offer $50 off September enrollment on a case-by-case basis.
Are there any other marketing approaches you recommend?
Potential customers only pay a fee if they enroll, and the fee is a one-time family fee that covers any future sibling enrollments.
Do you do any special games or activities?
We do some additional games that are less math related, like "Spot It" or "Connect 4," for warm-up or cool downs. And we do a game hour about three times over summer for currently enrolled students and their friends. We used to do this weekly, but we cut it back to about once a month over the summer, and it has been better attended.
Do you offer any short-term learning plans such as Power Math Workout Plans?
We always create full learning plans based on assessments, so students' main focus is PKs, (even in summer), but also supplement the workout book section with Power Math Workouts.
Are your summer hours different from the rest of the year?
Our normal hours are Monday-Thursday 3-8, Saturday 10-2, and Sunday 1-4. During the summer, we do Monday-Thursday 1-7, Friday 1-5, and Saturday 10-2. I've done split shifts, mornings, tried all kinds of ways, and this works best.
Any other insight to offer to Franchisees?
It's all about building relationships with people, getting their kids in year after year. Try to keep things simple and be flexible. Maybe offer an extra program, but don't offer too many menu options or short-term contracts. Keep things as similar to your school hours as possible. Keep a strong focus on the main program of 2-3 hours per week rather than four hours per day for a Math Camp.
We recommend reading our updated summer microsystem "Establish Programming: Plan Summer Programs" in the Operations Manual to gather new information about summer marketing. Our next interview will appear in a few weeks.
(End)