2018 Training Calendar
The Training Department is pleased to release an updated version of the 2018 Training Calendar! You can find the calendar in the "Mathnasium Calendar" widget on the right side of the Matters' page. We will continue to update this throughout the year, so stay tuned for more information regarding the second half of the calendar year!
Instructor Training Session on June 2, 2018 @ Denver, CO
Larry and the Training Department are heading out to Denver, CO on June 2, 2018 for the next Instructor Training Session. Join them for an insightful time of knowledge and math magic!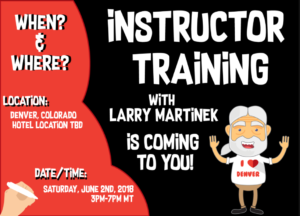 Purpose of Instructor Training:
Our single-day Instructor Training is designed to educate, inspire, and motivate your Instructors. They will have an exciting opportunity to take their teaching skills to the next level—under the guidance of the master himself, Larry!
NOTE: Franchisees and Center Directors, much of the material we are presenting on will cover topics already addressed at Initial and Center Director Training; however, if you would like to accompany your Instructors and join in, feel free to do so!
Location:
Denver, CO
Hotel:
TBD, Look out for the next post!
Date/Time:
June 2, 2018
3:00 – 7:00pm (MT)
(11am-3pm HT; 2pm-6pm PT; 4pm-8pm CT; 5pm-9pm ET)
How To Register:
To register for the In-Person Instructor Training at Mathnasium HQ, please follow this link to MU (you may be prompted to login) and click "Request".
To register for the Online Instructor Training, please follow this link to MU (you may be prompted to login) and click "Request."
You may also register by going to the MU Event Calendar on the MU homepage (bottom right-hand corner). Go to the desired training date and click on either the Online Instructor Training or (In-Person) Instructor Training links. Once you are in the Event, click "Request" to register.
The registration deadline will be Friday, June 1, 2018.
Once Registered:
Prior to the event, the Training Department will be sending out emails to confirmed attendees pertaining to the following topics:
Remote attendees' login information & tech specs
Required reading and assignments – All attendees must read Larry's documents prior to attending.
ECD Training Kick-Off on May 20, 2018 @ Home Office
Larry and the Training Department will also be starting a new cycle of ECD from the Home Office on May 20, 2018.  Please join them online or in person!
Purpose of ECD Training:
Experienced Center Director Training is mandatory for any existing employee that has been promoted to a Center Director position. A promoted employee, regardless of the title held, who assumes the responsibility of any of the following items is considered a "Center Director" for training purposes and must follow the hiring and training guidelines required of a Center Director:
Enrolling students (selling the program to parents)
Supervising, managing, or training staff
Involvement in Center marketing decisions
Prerequisites:
All attendees are required to have worked at a Mathnasium Center for at least six months prior to attending Experienced Center Director Training. Additionally, attendees must complete the "Center Director Training" curriculum prior to attending.
Schedule for ECD Training:
This program features six sessions spread out over six weeks:
Day 1 (Sunday): Kick-off Day— In-Person in Los Angeles, CA or 

Online Instruction

 from 9am – 6pm PT (6am – 3pm HT, 10am – 7pm MT, 11am – 8pm CT,12pm – 9pm ET)
Location:
Mathnasium HQ
5150 W. Goldleaf Circle Suite 200
Los Angeles, CA 90056
Days 2 through 5 (Thursdays): Online-only instruction broadcast between 9am – 12pm PT. Each session will cover a different microsystem.
Day 6 (Thursday): Certification Day—Online-only; between 9am – 12pm PT. Attendees will get to practice and perfect instructor interviews, MATH model, coaching role plays, parent discussions, and care call role plays.
Trainees must attend all six sessions (23 hours total) in order to receive certification. Any missed session must be made up during the next cycle before becoming certified.
To register for all six sessions, please go to the Events Calendar in Mathnasium University that is located on the bottom right-hand corner of the homepage. Clicking anywhere on the calendar widget will open the calendar. Please complete the following steps once in the Calendar:
Click on the desired session name. Please note that trainees must register for each of the six sessions individually (1 Sunday Kick-off event and 5 Thursday sessions).
Then, click "Request"
The registration deadline will be Tuesday, May 15, 2018.
Please feel free to email the Training Team at training@mathnasium.com if you have any questions. We look forward to a great training year ahead!
The Training Department reserves the right to change the calendar at their discretion. Any schedule changes will be announced prior to the scheduled date.
(End)