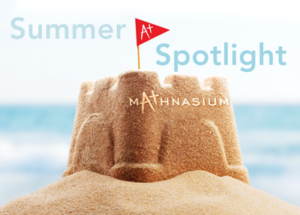 This is the second in a series of interviews with Franchisees about successful summer marketing tactics. Chosen based on strong summer sales numbers and feedback from their FBCs, these Franchisees offer tips on what they do and recommendations for other Franchisees.
Owner/Center Director Elana Daigle, of Mathnasium of Beaumont, Texas, holds a Master of Education in Curriculum and Instruction and over 10 years of experience teaching math in grades 4-8. She has owned and operated her Mathnasium Franchise for more than five years.
How do you gauge the success of your Center?
Our goal is to create higher revenue each summer over the previous summer. Comparing May–July to Jan–March, our income went up $4,000 during the summer of 2016 and $9,000 during the summer of 2017. We have a lot of repeat summer students.
Which marketing channels do you use during the summer?
Mainly Constant Contact and Facebook. With Constant Contact, we work year round to collect as many leads as possible. We've built a leads list of almost 9,000 emails addresses over the last 5+ years. We have thousands of elementary teachers, plus middle school and high school math teachers as well as counselors and principals in Radius. We also have added pediatricians to our leads list! Plus, every phone call and walk-in lead gets entered into Radius, so when we send out Constant Contact emails, we reach thousands of potential customers at no cost.
We also advertise a lot on Facebook. We follow the Mathnasium suggestions when boosting our posts. I feel it is important to not put a limit on the PPC. You only spend a lot if a lot of people are looking for you.
We also send home flyers with students' last report card. This took a couple of weeks to get approved by administration, having the flyers professionally printed and delivered to each school about a week ahead of time.
And we hang the summer banner in front of our store and place yard signs that advertise "Math Camp."
Do you have a pre-established budget for what you'll spend specifically on marketing summer at your Center? What is your monthly summer ad budget?
Our summer spend breaks down like this:
$250 – Mathnasium Summer T-Shirts. Every child gets one and receives extra stamps for wearing it.
$250 – Reward cabinet. We work hard to make sure there are great rewards for only one card.
$600 – Facebook Advertising. We spend about $100 per week for at least six weeks.
$250-$500 per month – PPC Facebook advertising
$300 – Activity Table – We buy a new table each summer.
What marketing channel(s) are most successful for you?
Probably Facebook, yard signs, and repeat business.
Why do you think you have had such successful summers overall?
Our summer program appeals to both parents and students.
#1:  We guarantee results to the parents. They love the "pre and post" test results.
#2:  We focus on always having a "Fun Factor" for the students. Fun Factors are things like snacks, stickers, Plinko, card or dice games, music, taking and posting students' pictures on Facebook or in the PowerPoint slideshow that runs in our Center, words of encouragement or praise on Post It notes in the binders, high fives, fist bumps, etc. We also have special summer activities like ice cream socials, Popcorn Day, Superhero Day, and Hawaiian luau. Students love our activities.
#3:  Our summer hours are divided up by:
20-minute PK's
20-minute WOB
20-minute activity table
It is important that parents and students understand that the activity table is a center for learning, not just playing. The activity table is Instructor led. We use specific mathematics vocabulary and we encourage the students to talk about the activity. Examples of activities include Snap Circuits, geometric puzzles and games, tessellations, and Spirograph to teach radius, diameter, circumference, etc.) counting money, and more.
What do you do to encourage current parents from the spring to stay on through summer?
A year ago, we started focusing on "longevity" of the student's enrollment. If students sign up for one year, they receive "unlimited " sessions. If they sign up for six months, they pay $20 more and only receive 12 sessions per month. Once we started this pricing, about 90% of our new enrollments signed up for one-year terms.
For summer, we offer our regular enrollment packages plus two summer options: "Prime 17" with 17 hourly sessions or a three-month package with 36 sessions.
What do you do to encourage parents who joined in the summer to stay on for the fall?
We conduct post-assessments. This shows parents that even though improvement is present, there is still work to be done. And lot of the summer enrollees also then go for our 12-month unlimited package.
Do you offer any short-term learning plans like the Power Math Workout Plans?
I use Jump Start 4th and 6th grade a lot. I am loving the new Extension assessments that cover geometry, measurement and statistics. The lessons that go with this assessment are fun and have a quick pace for the students. We will definitely use these this summer. Plus, there will be pre- and post-assessment results to go along with this.
During the summer, we must be flexible with parents. If they need the program tweaked a little, then tweak it. But alternating mornings and afternoons is too confusing. Don't offer session packages that are too small. Prime 17 is the smallest we offer.
Do you have any other recommendations for Franchisee summer marketing?
Open morning and evening at least four days a week.
Be flexible with parents.
Focus on improving lead conversion percentage before spending more money on marketing. If you aren't converting the leads you have, why spend money getting more leads?
Spend lots of energy on Constant Contact before spending lots of money elsewhere. 
We recommend reading our updated summer microsystem, "Establish Programming: Plan Summer Programs" to gather new information about summer marketing. Our next interview will appear in a few weeks.
(End)