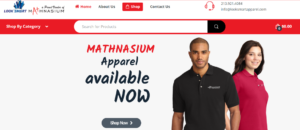 As part of our ongoing effort to offer Franchisees the highest quality items at the most competitive prices, we are excited to announce that we are conducting a pilot with LOOK SMART as a potential new apparel vendor.
LOOK SMART has a wide range of stylish apparel and has committed to offering Franchisees high quality products at a great value with superior customer service.
The pilot will be held over the course of the next two months, and all Franchisees are invited to participate. Mathnasium has negotiated a preferred franchisee discount on all products, which is reflected on the website. In addition, for the duration of the two-month pilot, they will be offering an EXTRA 5% off the already discounted price for the first order for all first-time buyers on looksmartapparel.com.
The goal of the pilot is to confirm that the franchisee experience lives up to Mathnasium's expectations. If you choose to order during this pilot, please provide feedback on your experience (including ease of ordering, availability of styles, prices, shipping and/or quality) by emailing the Mathnasium Support Team at support@mathnasium.com.
(End)