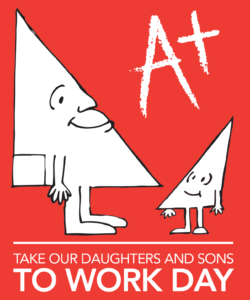 Here at Mathnasium Headquarters in Los Angeles, we've had many important visitors from all over the country and the world; but, on April 27, 2018 we were delighted to welcome some of our most important visitors ever…our kids!
This was our first time participating in "Take Our Daughters And Sons To Work Day," a national program designed to celebrate education, equality, and workplace opportunities that kids can discover when observing their parents and mentors. According to the TODASTW Foundation website:
"Exposing girls and boys to what a parent or mentor in their lives does during the work day is important, but showing them the value of their education, helping them discover the power and possibilities associated with a balanced work and family life, providing them an opportunity to share how they envision the future, and allowing them to begin steps toward their end goals in a hands-on and interactive environment is key to their achieving success."
The first order of business was a tour of the facility, including stops for fun presentations and Q&A in each department. After the tour, kids had the opportunity to meet and discover the joy of math with Co-Founder and Chief Education Officer, Larry Martinek.
Then, of course, there was time spent hanging out with mom, dad, or even sibling, observing (and helping with) the day-to-day activities and responsibilities of life at the office. Finally, after break for pizza and salad, the kids were delighted to participate in a re-creation of Math Night where they got to see the rewards (physical and mental) that come from engaging in fun math games with their parents!
Smiles and laughter were the standard of the day. To be honest, we aren't sure who enjoyed "Take Our Sons And Daughters To Work" more, the kids or the adults!
"As a company with such a genuine mission to help kids, it was refreshing to have kids physically present and giving them a taste of what it is we do. And just as important, I could tell that today was particularly heartwarming for everyone in the office, especially those who don't frequently spend time in centers witnessing our mission in action." -Nathaniel Erwin, Director of Franchise Business Systems
Mathnasium HQ is thrilled to have participated for the first time in this inspiring program, and we can't wait for next year's Take Our Daughters And Sons To Work Day event!
(End)