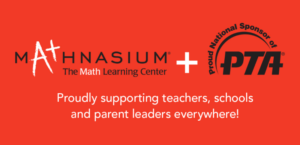 We are proud to announce that Mathnasium has renewed our partnership with National PTA. This will be our third year as a Founding Sponsor of National PTA's STEM + Families initiative. We are thrilled to extend what we started with the initiative—providing engaging math experiences to students and families through Math Night events.
This renewal is due, in no small part, to the overwhelmingly positive experiences reported by Franchisees in the recent Math Night survey. So many of you have communicated that Math Night events strengthened school relationships, increased local awareness of your Center, extended goodwill within communities, and helped you connect with parents. We are looking forward to many more impactful activities this year! As part of this partnership, we will announce another round of STEM + Families Math Grants sponsored by Mathnasium that are scheduled to be awarded to PTAs around the country at the beginning of the 2018-2019 school year.
Franchisees working with PTA organizations as well as PTOs and other parent leader organizations can continue to leverage this relationship to access schools, coordinate Math Nights, and establish themselves as the community go-to math resource.
Mathnasium VP of Marketing Julian Hollingshead is excited about the renewal:
"We look forward to continued partnership with National PTA, bringing quality math experiences to kids and parents and inspiring them to further explore STEM subjects and activities. This valuable relationship opens doors for our franchisees to make meaningful connections with parent leadership organizations in their communities. Together, we truly are changing lives through math."
Should you have any questions about our partnership with National PTA or items discussed, please contact Mathnasium Support at support@mathnasium.com.
(End)