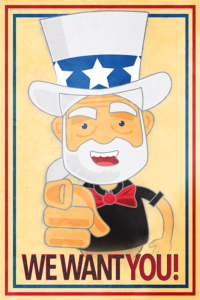 As plans continue to come together for Convention 2018, we hope you are following Larry's journey to our nation's capital (check out the latest "Where's Larry?" post) while planning your own journey to Convention, reflecting on your personal journey with Mathnasium, and sharing your success stories!
This year will be all about highlighting past successes, sharing those with your peers, and training together to ensure even greater success in the year ahead.
The General Sessions will be focused on both reflecting on the last year and inspiring you for the future, including CEO and State of the Company addresses by our leadership, Franchisee success stories, and our guest speaker Dr. Randy Ross, Founder and Chief Enthusiasm Officer of the consulting firm, Remarkable!
Breakout Sessions will focus on the training and leadership to help you maximize success in your center and amongst your team. Featured sessions include:
Preview the Digital Enrollment Experience– Get a sneak peek at Radius' next big tool – paperless enrollments – and start enrolling families directly out of Radius.
Radius Workshops– Join the Radius experts to learn to use Radius to the fullest. Activities will include the following: reports, parent communication tools, employee management, and student progress.
Be a Leader, not a Manager!– Join David Peddie for a workshop designed to elevate your influence and communications with Leads, Parents, Students, and Staff.
Lead Out Loud– Your employees can make a difference in your business, and you can make a difference in their lives. Join Mike Steed for this interactive workshop as he shares inspiring stories and encouragement on how you can empower your teams to do more than you ever thought possible.
Create your Marketing Plan– Erica Upshur will help you determine how to maximize your marketing dollars, including how to plan ahead for the school year, figure out what to spend money on, how much, when, and how to decide what works.
Social Media– The Marketing Department will present on how to use Hootsuite and add-in your local content to drive engagement on your social channels.
Be the Mayor– David Peddie talks on how to become the authority in your community for math education through networking and participation.
Serving the High School Population– Now that Geometry has been replaced and HMM release is underway, let's look at how we best serve our High School population.
Taking a Fresh Look at some familiar material– Join Larry to relook at some valuable resources that you might not have glanced at in awhile.
Our celebration of everyone's successes will continue into Monday evening as we come together for a special awards dinner to reward community achievements. In addition to recognizing our Top Revenue Centers (including a special recognition for our first owners who've reached a Mathnasium Milestone!) we'll also celebrate our Rising Stars, as well as our Top Listen360 Net Promoter Scores!
Be sure to pack your dancing shoes because at the conclusion of the dinner, special entertainment is being planned that you will not want to miss!
We encourage you to register for Convention and book your hotel room soon as the Convention registration and hotel reservation deadline is quickly approaching on June 6, 2018! Please CLICK HERE to view our Convention Registration Tutorial video that provides step-by-step instructions on how to register yourself, your staff, and guests for Convention. You may be prompted to login to MU before you can view this video. If you have further questions about Convention, please CLICK HERE to download our Convention 2018 FAQ Guide.
(End)