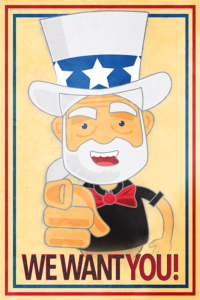 Now that we have discussed travel and local area information along with more event information on Matters, we would like to highlight the special events that will be happening at this year's Convention!
But first, another Fun Fact about the Omni Shoreham Hotel! By day, the Blue Ballroom will be serving as a breakout session room, and by night, it will be serving as the space for our After-Party event! The Blue Ballroom was the hotel's former night club. Not only did Liza Minelli make her very first public appearance here, the fight song "Hail to the Redskins!" for the Washington Redskins football team was written in the Blue Room and debuted on August 17, 1938. Frank Sinatra, Rudy Vallee, Judy Garland, Aretha Franklin, and Tony Bennett are just a few famous faces to also grace the Blue Room floor. Also thought to be the location of John F. Kennedy and Jacqueline Bouvier's first date. The hotel's original liquor license is also embedded in the wall along the staircase down to the Blue Ballroom on the right.
Welcome Reception
When: Sunday @ 7:00-9:00pm ET
Location: Empire Ballroom and Patio (one floor below the hotel's lobby)
Join your fellow Mathnasium colleagues for a couple of hours to reconnect, network, and celebrate the kick off to our Annual Mathnasium Convention. As a reminder, this event will be partially outdoors and may be humid, so please plan accordingly. The recommended event attire will be business casual.
Awards Dinner
When: Monday @ 6:00pm ET
Location: Regency Ballroom (one floor below the hotel's lobby)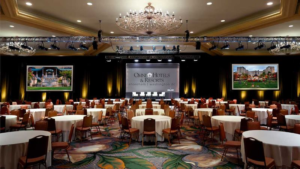 Celebrate with us as we honor our franchisee network and this year's outstanding achievements! Plated dinner and non-alcoholic beverages will be served. Bar service will be available before and after the general Awards ceremony. The recommended event attire will be casual elegant*.
Please note that we will be limited on seating for our Awards Dinner event. If you are planning to bring guests who are currently not registered for the main Convention event, you will need to notify Mathnasium Support of these guests and pay a fee in advance before July 6th. The adult guest rates are $100, and children's rates are $50 (child's meal will be provided).
*Casual Elegant refers to the dressed-up version of casual attire. This can vary, depending on the extent an individual wants to dress up. For him, it could be a dark suit or a button down with trousers, made complete by a sportcoat. For her, a formal pants outfit, or a snazzy black dress complemented by an evening wrap or clutch bag. The difference between business casual and casual elegant lies in the level of personal adornment or "flair".
After-Party Event, "Monday Night LIVE"
When: Monday Night following the Awards Dinner Conclusion
Location: Blue Ballroom (on the lobby level)
We are so excited to have special guest performers, OUTLET, a NJ/NY-based rock cover band fronted by Mathnasium Franchisee/top Owner, Marc Goldberg. Not only is Marc the lead singer of the band, but he's also the drummer! The band is comprised of rockin' dads who came together two years ago unified by their belief that having a consistent musical "outlet" is critical to their life fulfillment. OUTLET will be playing a collection of classic and alternative rock songs that span over a 30-year period.
Questions
Any time that you would like more information about Convention, check out our "Convention" category under the "Categories" widget on Matters to see all posts related to Convention!
As usual, please feel free to reach out to Mathnasium Support (support@mathnasium.com) if you have any questions!
(End)