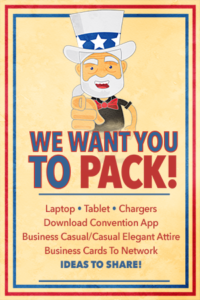 We are looking forward to seeing many of you in Washington, D.C. in just a few days!
We recommend that you complete the following steps to ensure the best Convention experience for you.
#1: Review Your Packing List
As you pack and prepare for this upcoming event, we wanted to help you with a basic list of important items to include in your luggage:
Laptop

(required for Radius Workshop)

Tablet

(required for Radius Workshop)

Chargers
Business Casual Attire for Convention sessions and Sunday reception
Casual Elegant Attire for the Monday Awards Dinner
Business Cards to Network
We want to highlight that the Radius Workshop will require attendees to bring both a laptop and a tablet. If you do not have a tablet that you can take with you, we will provide tablets in the workshop, but there will only be a very limited amount.
#2: Check the Forecast
Now with the event right around the corner, we wanted to highlight that various weather sites have forecasted scattered thunderstorms for next week, so pack accordingly!
#3: Download the Convention App
As we did in 2017, attendees can download the "Mathnasium" app for Convention 2018 by following the simple instructions below:
Go to the 

App Store (iOS)

 or 

Google Play Store (Android)

.
Simply download the app on the device you are bringing to Convention!
#4: Plan Out Your Convention Experience
Our mobile "Mathnasium" app has all the important information you will need for the Convention including:
PLEASE NOTE: Social Media Content 101 (before was in BOS #2) will now be BOS #5 in the Ambassador Ballroom. Social Media Content Intermediate (before was in BOS #5) will now be BOS #2 in the Diplomat Ballroom.
Feel free to print out this information as well by clicking on the hyperlinked items above.
#5: Read Through Former Convention Posts
Here are a few posts on Mathnasium Matters that can provide you with more information about the venue:
#6: Submit Your Success Story
If you have not already, find the 4 postcards uploaded to Radius that has tracked Larry's journey to Convention and provided prompts about your success story! To find this page with Larry's postcards in Radius, CLICK HERE for a Matters post that helps you find it.
Remember, the first 100 submissions will receive a surprise reward at the Convention! However, if you have not already, you only have until end of day Friday, July 20 to submit your stories.
As always, if you have any questions, please feel free to reach out to the Mathnasium Support Team. See you all soon!
(End)