It was another amazing Convention this year! We had a great time meeting everyone who stopped by the Home Office's Education Department booth.
At the booth, we showed off some of our material including:
The new SAT and Algebra Workout Books
Some enrichment Focus Ons (2001, 2002, 2003, 2004, & 2005)
Examples of extension sheets for Problems of the Week
The new Geometry program
We had some ideas to share on how to use the prize wheel, including:
Encouraging WOB pages
Completing Problems of the Week extension sheets
Participating in any warmups or end of session learning reflections
Attendees also had the opportunity to enter our estimation jar contest.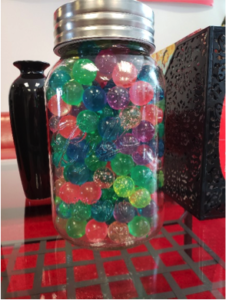 We asked for an estimation of the volume of bouncy balls in the jar. Using the water displacement method, we were able to approximate the volume.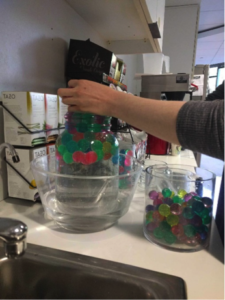 There was a clear winner who will receive a pair of Mathnasium sneakers, the jar, and all the bouncy balls.
And the winner is…
Derek Pipkorn from Mathnasium of Wauwatosa!
We also asked everyone who stopped by the booth if they had any education "tips" to share in our "tip" jar. These ideas could cover all sorts of topics, including a fun activity that was successful in their center, an efficient way to update binders, or a way to let instructors know which students are new.
Here are some of the "tips" we received:
"I made a scavenger hunt with 1,000 digits of pi." –Alex Guppy, Mathnasium of Chattanooga
"During the summer to substitute for homework, we love 'game time.' Twenty minutes of games for all students who want to participate. The kids love it!" –Anthony Arborn, Mathnasium of Lake Mary
"The Workout plan for new students is on a different color with a checklist of things that kids need to know." –Priya Pitre, Mathnasium of Doral
"We put study relaxed background music to lower what students hear from other people." –Daniel Ventura, Mathnasium of Aventura
"On the spinning wheel using polyhedron dice, color code them on a wedge, roll that color die, and get that many stamps." –Valerie Johnson, Mathnasium of North Dallas
And finally, one from our Instructor of the Year:
"Don't be afraid to smile! Energy is contagious!" –Jasmyn Flint, Mathnasium of Wilmington
Thank you to everyone who stopped by the Education booth and participated in the activities!
(End)