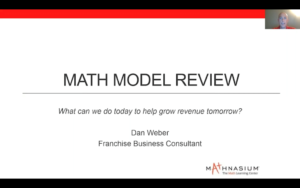 Dear Franchisees,
As part of a new series of upcoming Lead Conversion-focused videos, we have worked with one of our Franchise Business Consultants, Dan Weber, to create an effective presentation on best practices for using the MATH model when answering center calls.
This presentation is available on video, and we encourage you to watch for tips to boost your appointment setting rates! This great refresher is available by CLICKING HERE.
Also, remember to log in to WhatConverts to review your past calls and consider whether you or your staff are following the best practices outlined in this video. For more advice regarding phone sales, contact your FBC.
— The Marketing Department
(End)