New Jersey, we're coming back for you! Our Instructor Training date is Saturday, January 19th. Come join Larry and the Training Team for an engaging and eye-opening session full of math magic!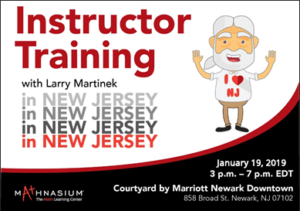 IMPORTANT: The registration deadline for the In-Person Training is now Thursday, January 10th. A minimum number of registrants is required for our In-Person Training in New Jersey. If the minimum is not met, the In-Person session will be cancelled, and we will only have the Online session. The registration deadline for the Online Training is still Thursday, January 17th.
Purpose of Instructor Training:
Our single-day Instructor Training is designed to educate, inspire, and motivate our Instructors. They will have an exciting opportunity to take their teaching skills to the next level—under the guidance of the master himself, Larry!
NOTE: Franchisees and Center Directors, much of the material we are presenting on will cover topics already addressed at Initial and Center Director Training; however, if you would like to accompany your Instructors and join in, feel free to do so!
Location:
Courtyard Newark Downtown
858 Broad Street
Newark, NJ 07102
Date/Time:
Saturday, January 19th
3:00pm – 7:00pm ET
(9am – 1pm HT, 12pm – 4pm PT, 1pm – 5pm MT, 2pm – 6pm CT)
How To Register:
To register for the In-Person Instructor Training in Newark, please follow this link to MU (you may be prompted to login) and click "Request".
To register for the Online Instructor Training, please follow this link to MU (you may be prompted to login) and click "Request."
You may also register by going to the MU Event Calendar on the MU homepage (bottom right-hand corner). Go to the desired training date and click on either the Online Instructor Training or (In-Person) Instructor Training links. Once you are in the Event, click "Request" to register.
Once Registered:
To confirm that you're registered for one of the sessions, check your transcript and assure that your desired session is listed. Prior to the event, the Training Department will send out emails to confirmed attendees pertaining to the following topics:
Remote attendees' login information & tech specs
Required reading and assignments – All attendees must read Larry's documents prior to attending.
Please feel free to email the Training Team at training@mathnasium.com if you have any questions!
The Training Department reserves the right to change the calendar at their discretion. Any schedule changes will be announced prior to the scheduled date.
(End)