UPDATE: The Canadian version of the summer slide video is now available!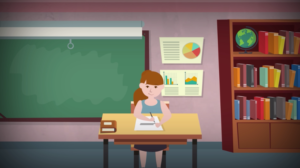 New on Matrix is an animated video featuring "Madison," who represents children who experience the summer slide. The video explains what Mathnasium does and how we prevent summer learning loss, helping children when they return to school in the fall. It runs one minute, 50 seconds, with both a U.S. version and Canadian version (Canadian version available tomorrow).
This video can be used along with the Transformation Social Media video for your social media advertising campaigns. We're continuing to create summer slide digital assets to complement the gallery of available marketing materials as we head into high summer marketing season.
Should you have any questions, please contact us at support@mathnasium.com.
– The Marketing Department
(End)