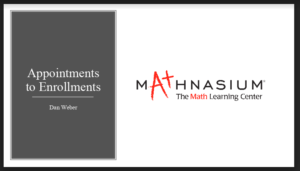 Dear Franchisees,
Looking for more training on Lead Conversion techniques?  A new "Appointments to Enrollments" training video is now available on Mathnasium University to request or assign. The video covers the following:
How to build rapport with parents and kids
Goals to accomplish before and after the assessment to improve success
How to handle common objections at the point of enrollment
If you have any questions, please email support@mathnasium.com.
– The Marketing Department