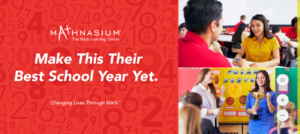 Dear Franchisees,
We are pleased to announce that the new 2019 "Back-To-School" campaign is now available for the United States on the US Marketing Matrix. In this release, we are providing a comprehensive set of assets that will support your efforts as kids head back to school. Some key items are:
Flyers and Posters
Print Ads
Digital Banner Ads
Social Media Covers and Ads
Microsite Banners
Email Templates
EDDM and Direct Mail Pieces
Radio Script
Exterior Banners
Yard Signs
The start of the school year is an exciting time that holds great potential for success. We trust these materials will serve you well, and we look forward to hearing about everything your students achieve this school year!
For any questions, please contact Mathnasium Support (support@mathnasium.com).
– The Mathnasium Marketing Team
(Note for Canadian centers: the 2019 "Back-To-School" campaign will be made available in the coming days. Please watch for more information in a forthcoming announcement.)
(End)