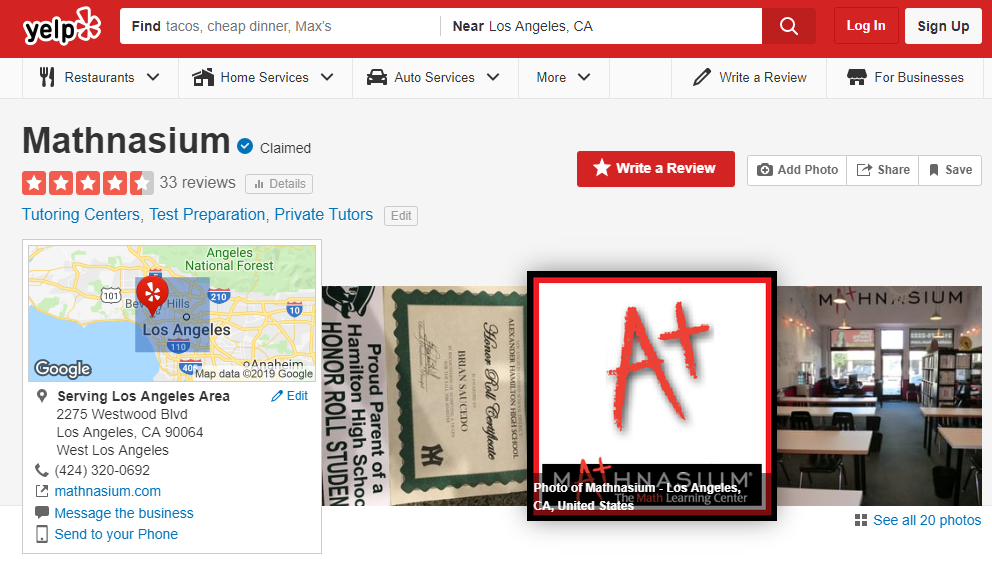 Dear Franchisees,
This is a reminder that, if you have not yet updated the Name, Address and Phone Number on your Yelp page to match what is listed on your microsite, please do so ASAP in order to help optimize your microsite's search engine ranking.
Per this previous Matters post, please make sure you complete the below changes:
CHANGE #1 (Name): Please change your Yelp page from the "Mathnasium of LOCATION" to merely "Mathnasium".
CHANGE #2 (Address): Your center's address needs to be consistent with the address on your microsite and across all site platforms. Therefore, please make sure that your address is correct on your Yelp page and that it doesn't have any directional content (i.e. "Next to the Trader Joe's").
CHANGE #3 (Phone Number): The phone number needs to be consistent with the phone number on your microsite (your center number, not your WhatConverts tracking number) and across all sites. Therefore, the phone number needs to have the standardized format of (xxx) xxx-xxxx and no appendages, such as "MATH". Extensions are acceptable when necessary to the functionality of incoming calls.
CHANGE #4 (*NEW* Suite/Unit): Please replace "Suite" or "Unit" with the "#" sign. Please see instructions below on how to update this on your Yelp page:
STEP #1: Login to your Yelp Business Owner Account via https://biz.yelp.com/login. Any business with a claimed Yelp page gets a free Business Owner Account.
STEP #2: Open the Yelp page for your center, and click on "Edit" next to your listed address.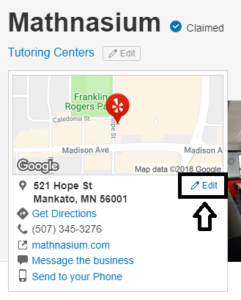 NOTE: If you are not using a Yelp Business Owner Account, you will see the following question below regarding if this is your business or not. You can select "Yes", and move on to the next step.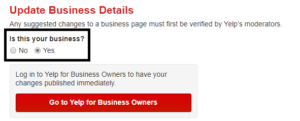 STEP #3: Replace "Suite" or "Unit" with the "#" symbol. Make sure that there is no space in between the suite number and the symbol. Then, click "Submit Changes". Once you submit, you should get the following message:

NOTE: The Yelp team has to vet any changes to a Yelp page to make sure that they are accurate. If your microsite is up-to-date with the latest changes to the NAP header, the verification process will happen faster.

Also, depending on the type of Yelp account you have, the timeline for your changes to be reflected on your page may vary.

If you are using a Yelp Business Owner Account, the average time for these changes to reflect on your page is 2-4 weeks, depending on the volume of requests. If you are using a personal Yelp account, this process may take substantially longer. The timeline of these updates is at Yelp's discretion.
If you have any questions, please contact Mathnasium Support (support@mathnasium.com).
(End)